What is Fotofest?
Fotofest is one of the TOP events for fine art and documentary photography in the United States and happens every even numbered year in Houston Texas. If you are an appreciator of highly creative and expressive photography, this is the best event to attend! This was the 16th festival and included dozens of inspiring exhibitions, artist talks, and curator tours. It also has a very special event called the Meeting Place. This is like speed dating for artists and the arts professionals who need to find artworks to exhibit, publish, and sell in venues around the world. Art collectors also participate in the meeting place to provide feedback to artists and to discover new artworks for their collections. The festival lasts for four weeks and every week there is an event open to the public where you can come and meet every artist participating in the meeting place, and get a chance to see their portfolios. Throughout the month there are film screenings, private parties and other fun events. Plus the weather is perfect in Houston at this time of year!
My Experience at Fotofest
It was A-Freakin-Mazing!!! I brought a selection of work from Glacial Waters and from my Sustain project. I had 21 portfolio reviews with curators, gallery owners/directors, magazine editors, directors of alternative exhibit spaces, and art collectors. I was literally doing a happy dance after every review! Overall the response to my work was very encouraging, with some helpful suggestions about how I could further develop both bodies of work. Naturally some reviewers gravitated to one body of work or the other. Generally speaking the museum curators, magazine editors and alternative space directors were more interested in the Glacial Waters series. I was invited to exhibit the Glacial Waters series in the Denver Month of Photography Festival and Big Picture Project, which is on the sides of public transit buses in 55 cities. The galleries and art collectors were more interested in the Sustain series, especially the digital tintypes and cyanotypes. Several gallery directors confirmed my hunch that the demand in the art market is strong for photography created with alternative and historic processes. Upon my return, I also sold one of my digital tintypes "She Was Heckled by Blue jays" as a result of one of my meetings. I expect that more opportunities will arise by staying in touch with all the great people I met through the meeting place!
The Event Theme- Changing Circumstances: Looking at the Future of the Planet
The exhibitions were all curated around the event theme, which highlighted the many environmental challenges we face today. This was especially significant for me personally because all of my artwork engages with the relationship between humans and nature. Work by David Doubilet highlighted the biodiversity of the coral reef ecosystem and the threats to this ecosystem such as ocean acidification due to climate change. A project by Joel Sartore called Photo Ark featured portraits of hundreds of endangered species, done in a manner to call attention to the plight of these amazing animals. In another compelling project, photographer David Liittschwager created a 1-foot cube and photographed all the biodiversity within that space in the course of a single day. He repeated the project in ecosystems around the world to highlight the biodiversity or lack thereof.
VIP Collectors Tour
I registered for the VIP Collectors Tour. Admittedly my art collection of other artists work is small, but hey, the events they had listed on the schedule were very enticing. I figured I would learn a lot and meet even more great people. I got to attend a private exhibition tour with artist talks, a VIP party and a back room talk given by curator Malcolm Rogers of selected photographs from the Museum of Fine Arts Houston collection. The first event I attended was a private exhibition tour and artist talk. It featured several artists who are creating art to raise awareness about environmental problems and the human-nature relationship. The artist talk included Meridel Rubenstein, Daniel Beltra, Nigel Dickenson, Martin Stupich, and Chris Jordan.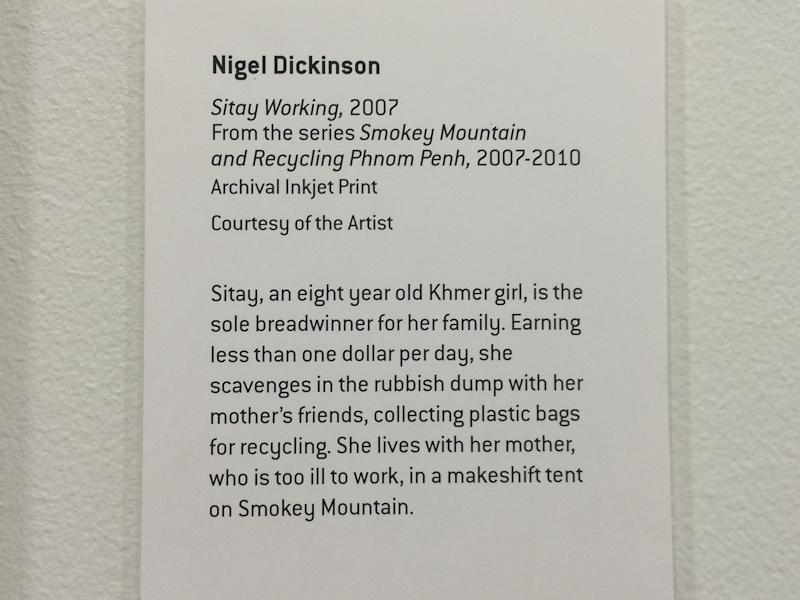 I also went to a fun party at the home of two supporters of Fotofest. They had a lovely home and beautiful art collection of black and white photography. I met several people, including one of my all time favorite photographers, Edward Burtynsky. Ed is a fine art photographer who has been photographing the effects of industry on the environment for 25+ years and is in the collections of over 60 museums worldwide. I got to sit with him for an hour and discuss our families, world environmental problems, how to reach out and get the environmental messages in our work to the widest possible audience (especially young people), and a bit about the business side of being an artist. He is such a nice guy. If I could pick anyone in the world to be a mentor- he would be the one person I would choose!
The third event I attended was a private tour of selected photographs from the Museum of Fine Arts Houston collection. I was allowed to video it for educational purposes. Unfortunately I am not permitted to post the video in a public place due to copyright restrictions on some images contained therein. The presentation was a survey from the earliest beginnings of photography to very contemporary work. It was like a mini history of photography course encapsulated into a one-hour presentation. I was thrilled to see an original silver gelatin print of my most favorite image by Robert Frank from the Americans series.
This image is so poignant and shows how Robert, a Jew who had left Europe after WWII came to the United States in the 1950's and observed the conditions of racism he had fled in Europe. He photographed African Americans with a keen sense of empathy not seen in earlier work by white artists. In this image of the streetcar, the visual aesthetics contribute to the visual expression. Each window of the street-car forms a frame within a frame, serving to socially separate the people inside. The white bars that divide each window reinforce the separation and institute a lack of color as the dominant hegemony. The social structure that resulted in separation of the races in New Orleans is captured in one poetic moment.
Did you enjoy this blog post? If so, you can never miss another post by becoming an Art Insider. Subscribe via the link at the top right sidebar of this page.
You will get a monthly email with insight into my creative process, exhibition reviews, my artworks in progress, subscriber only discounts on my art, invitations to my exhibitions, seasonal recipes for cooking from the garden or farmers market and more!